Business Context
iShares is a leading global provider of exchange traded funds (ETFs). It's managed by BlackRock, the world's largest asset management company.
iShares wanted to position its brand strongly among three key audiences – and in doing so, to challenge their misperceptions and preconceived ideas about ETFs:
To influence financial advisers to prefer and ultimately recommend iShares when they construct portfolios for their clients and their various investment goals
To drive end investors' awareness (primary) and consideration (secondary) of iShares ETFs
To shift institutional investors' perspectives on the role iShares can play in their varied portfolios to achieve their investment goals
When it comes to investing, the FT Group's audience is second to none. It spans serious retail investors, top-end financial advisers, and powerful institutional investors who manage priceless portfolios worldwide.
This made the Financial Times the natural choice of partner for iShares.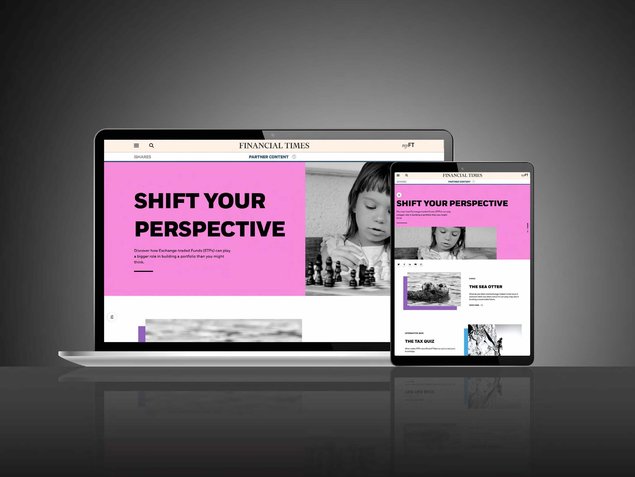 Our Solution
Working with iShares and its agency Mindshare, the FT Commercial team devised the multimedia campaign 'Shift Your Perspective'.
Strategy
We knew we needed to change people's thinking on ETFs. So our strategy was to provide a new and surprising view of various subjects, shifting the audiences' perspectives in ways that would intrigue and delight them. This would demonstrate to investors and financial advisers that things aren't always what they seem – and that ETFs can do more than they might think.
We used the full breadth of the FT portfolio, for the two-part programme: 'There's an ETF for that' ran across FT Specialist titles, and 'Shift Your Perspective' ran on FT.com. This case study reflects only the FT.com output.
Content
Videos. To provoke the viewer's interest, the videos opened with a tone of discovery and intrigue. Each one began by zooming in on a single familiar object – such as an otter or a surfer – then zooming out to tell a surprising story and make a direct connection to ETF opportunities in this area.
Articles. To prove the point introduced by the videos, data-first articles went deeper into the messaging. Each one focused on a topic relevant to a particular category of ETFs, beginning with data that illustrated trends in this area and then showing how this has driven investor interest in the sector.
Interactive infographic. In a 'Test Yourself" quiz, users could answer questions that revealed their misconceptions and showed how iShares ETFs can deliver growth, income and benefit from short-term market movements.
The FT's marketing team promoted the iShares content with a programme of native ads and social media activity targeting iShares' intended audience of personal investors, financial advisers and institutional investors. The marketing sought to provoke users by providing them with quality content to watch, read, and engage within the "Shift Your Perspective" ecosystem.
Once the audience was introduced to the content, we retargeted users with additional content to deepen their engagement with the iShares brand. Onsite media and social promotion worked in tandem to reach the core audience during both working hours and leisure time.
Results
The campaign is still in progress, but so far it is performing extremely well:
Average video views 74% vs 43% benchmark
2 out of 3 users reached the final question on the interactive quiz
Return visits were 5% above benchmark
'Shift Your Perspective' has seen an uptick in traffic since Jan 9 it acquired an additional 50k unique users, 60k video views across all three videos, and 5k Bond Quiz page views.
The videos amassed over 100k views; with average viewers watching 3/4 (74%) of each video. The average of all three videos is 1:46, which is 15 seconds over our benchmark.
Onsite marketing media nearly doubled the amount of impressions delivered (currently at 2,109,337) and has maintained a CTR well above benchmark at .15% (site benchmark .10%). Throughout the course of the campaign Financial Advisor's are still producing the highest overall CTR among the three audience groups with .16%.