Business Context
Microsoft 365 is Microsoft's productivity platform, facilitating mobile and collaborative working. Combining premium Office apps with cloud-based productivity tools and artificial intelligence features, it's a single integrated solution designed to make working easier, quicker and more efficient.
Marketing Objectives
Microsoft needed to achieve greater understanding and awareness of the platform. Their core audiences of enterprise business decision-makers and IT decision-makers viewed it as a licensing bundle; Microsoft wanted to shift this perception to that of an integrated service, positioning Microsoft 365 as the world's productivity cloud. To achieve this, Microsoft selected the Financial Times as the best way to reach enterprise IT decision-makers – specifically their defined target audience of "Rising Business Leaders".
Our Solution
The Financial Times Commercial team worked with Microsoft 365 to create a content campaign that would engage and persuade the target audience.
It was crucial to ensure that the human story came through. The move to working from home has aged the cloud platform landscape by decades in a matter of months. With this in mind, the content needed to balance showing the human side with telling the business story, and to include an element of interaction to make the user feel truly connected.
The result was a multimedia series exploring aspects of work today, from collaboration and security to remote working and productivity – and the tools and technologies that can help.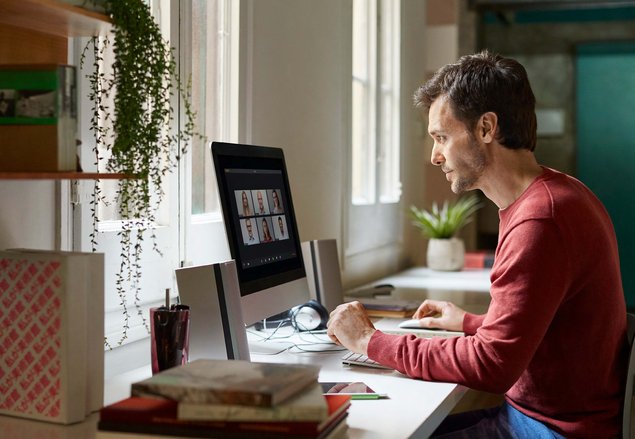 Results
The campaign achieved an impressive 15% uplift in awareness and understanding among Microsoft's key target audience.
Discovering how much content a single user viewed tells us whether we captured the right audience and persuaded them to read more. This campaign was highly successful in capturing audience attention – and keeping it.
Over 1.4 pages viewed by the average user – 9% more than our benchmark
Achieved 17,578 page views on the brand story overall
Attracted over 14,000 unique users
Average of 69 seconds spent on the content pages – 2x our benchmark for technology content and over 25 seconds longer than our overall content benchmark
300 page actions such as social shares and clicks to Microsoft's domain – resulting in a 2.5% click-through rate, a full percent more than our site benchmark
Excellent traffic driver results on social, with over 500 likes, shares and comments – and over 4.1% engagement rate (2.3% higher than average)
The best-performing piece of content (the video) achieved 4,795 page views, a further 4,432 video views from LinkedIn, and an average of 92 seconds spent on page