Business Context
Mitsubishi Heavy Industries (MHI) has a longstanding relationship with the FT, with previous campaigns including 'The Energy Transition Guide' and '50 Ideas to Change the World.'
In 2019, they wanted to build on "50 Ideas to Change the World" with a project that would look at the world when these new technologies are in place.
Marketing Objectives
The campaign's main objective was to ensure continuity of brand association of relevant MHI business units, with particular focus on MHI's culture of innovation and desire to "Move the World Forward."
This theme resonated well with the 'future gazing' topics explored by FT journalists in the report, such as how we will move, make things, live, work, stay safe and get our stuff.
The campaign would draw on FT first-party data to maximise impact and deliver results that would:
generate new original content desired by FT readers
generate content that has longevity, that demands sharing
deliver MHI messages to core audiences in key markets
deliver key industry topics for key dates
build upon previous campaigns
Our Solution
The FT created six chapters exploring the topic 'How will we live in 2050?':
How Will We Move?
How Will We Live?
How Will We Work?
How Will We Stay Safe?
How Will We Make Our Stuff?
How Will We Get Our Stuff?
One chapter was published per month. Each had a minimum of six articles and was accompanied by a high-value animated/comic book-style video.
The FT created a dedicated FT.com hub to host all the digital content.
The sponsor package includes 100% SOV on all adverts appearing against the content, a marketing plan and a high-level integrated campaign.
To be successful, these videos had to convey a futuristic element but also a sense of the practical.
In a first for FT editorial reports, the FT's in-house content studio created a series of comic book-style videos devised to bring the audience a new, thought-provoking dimension.
These videos focused on answering questions about living in the future, covering topics such as tech, logistics, health and work.
Exploring a wide variety of topics allowed Mitsubishi to encourage debate beyond the industrial world and to showcase the respective benefits of future developments.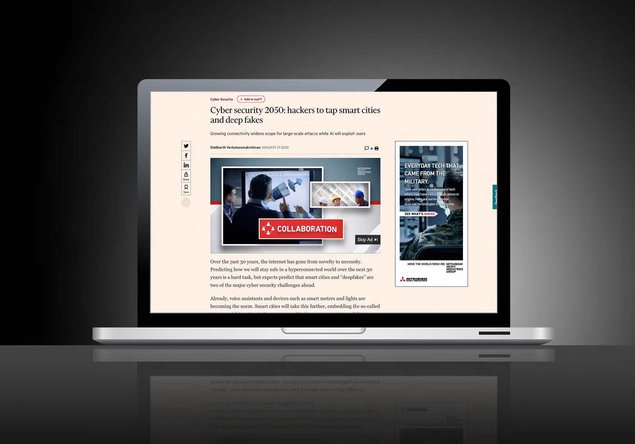 Results
This campaign achieved a remarkable total of over 754,000 page views and generated 969,000 ad impressions across all platforms.
Of the FT audience, 22% were C-suite - showing that this core audience group engaged with the content throughout the campaign
Reader interest was strong, with an average time on page of 67s
Because the client could run creatives tailored to each chapter of the report, the campaign benefited from good CTR performance, a lack of creative fatigue and a respectively higher engagement.