Research
Brand building with customer data
"Brand building is the main driver of long-term growth and involves the creation of memory structures that prime consumers to want to choose the brand.'' - Binet & Field - Effectiveness in Context (IPA), 2018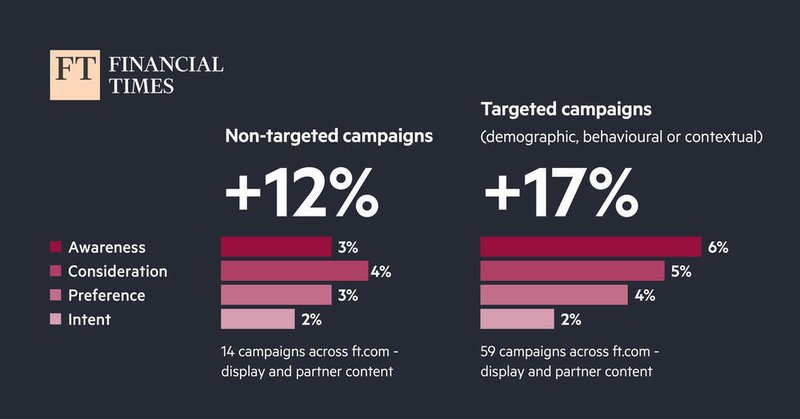 The improved ability to share and track customer data in the digital advertising industry unlocked a huge potential to measure and scrutinise digital campaigns. This, in turn, pushed marketeers towards direct response strategy and resulted in many brands having a short term outlook, focussing on the lower end of the marketing funnel. At the FT we believe changes to data privacy and the discontinuation of third-party cookies present an opportunity for advertisers to focus on brand building - to collaborate more closely with publishers and utilise audience insights to improve their campaigns.
FT research indicates that running targeted campaigns based on context and behaviour ultimately results in increased brand uplift. The average uplift an advertiser can expect by running a digital campaign on ft.com is +16% across the entire marketing funnel*. Our unique access to declared data enables us to optimise both the targeting and frequency of an advertisement. Having a comprehensive customer data profile enables brands to tailor messaging, and advertising with the FT to be more targeted with placements.
Submit your details here to hear from our team about targeting and content capabilities at the FT.
*Source: FT Brand Uplift research 2022
More from News & Insights